Safe Ride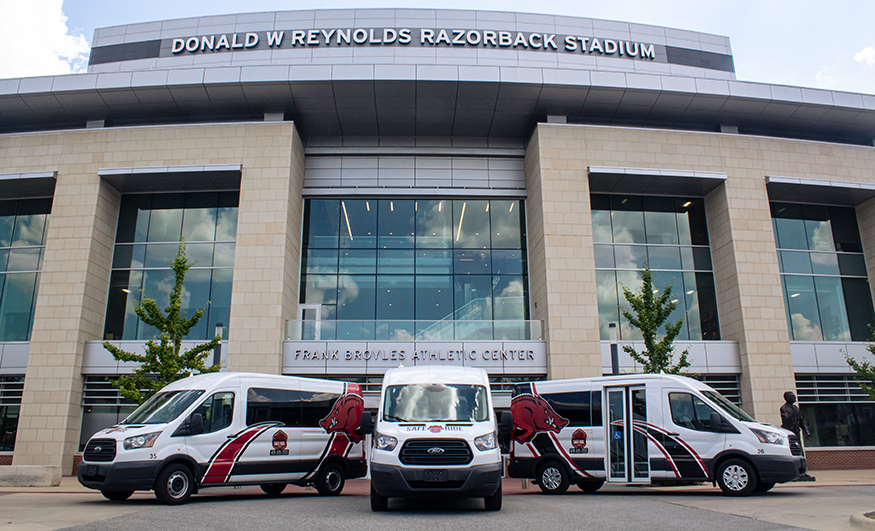 Safe Ride
Need a Ride? Call 479-575-SAFE (7233)

What is Safe Ride?
The mission of the Safe Ride program is to provide students with a safe means of transportation from any uncomfortable or inconvenient situation. During operating hours, Safe Ride can pick you up at any location within the Fayetteville city limits and transport you to your residence as indicated on UAConnect.
When should Safe Ride be used?
Safe Ride should be seen as a "Plan B" option when other plans have fallen through or an unexpected situation arises where a student needs transportation. Several reasons to use Safe Ride include:
1. An uncomfortable date
2. Keys are locked in the car
3. Stranded at an undesirable location
4. Car trouble
5. Too tired to drive home
6. Need a sober ride home
7. Need a ride from a distant parking lot
8. Do not wish to walk home in the dark
9. Accidentally left by your ride home
10. A safe alternative for any situation or circumstance
How should Safe Ride NOT be used?
Safe Ride should not be used as your sole option for safe transportation, rather it should be considered a last resort when other options have fallen through that evening. Safe Ride is not to be used in lieu of chartering a bus by groups, including Greek Life and other campus organizations. Using the service in these situations results in long wait times and potential escalation of dangerous situations for students who truly need the service.
When does Safe Ride Operate?
The Safe Ride Program has two main components: Safe Ride On Campus Service and Safe Ride Service.
Safe Ride On Campus operates Monday and Tuesday nights, from 10:30 pm-1:00 am and provides service ON CAMPUS only. Safe Ride does not operate during the summer.
Due to freshman living off-campus, the following locations will be serviced on Monday and Tuesday:
The Cardinal
The Marshall
Ozark Villas
The Locale
Safe Ride Service operates Wednesday through Saturday nights from 10:30 pm-3:00 am and provides service from anywhere in the Fayetteville city limits to your official residence as indicated in UA Connect.
How does Safe Ride work?
When you need a ride, call 479-575-SAFE (7233). A dispatcher will ask for information such as your location, your student ID number, and your destination. The van will then transport you to your residence. You are allowed to have up to three (3) guests with you on the ride. If you have special needs and require a wheelchair accessible vehicle please notify the dispatcher.
What if persons in my party live at different locations?
A separate name and valid student ID number is required for each separate location, all names and destinations must be provided to the dispatcher when you call. Multiple riders may call in on the same phone call.
How is my residence established with Safe Ride?
Safe Ride can ONLY give you a ride to your official local address according to UA Connect. If you do not live on campus you are allowed one change of address per semester. If your first destination on Safe Ride is different than your registered local address, this destination will be established as your permanent residence for the rest of semester. Safe Ride may deny a ride to the location of a suspected party.
What if my phone is about to die?
If your phone is about to die, the dispatcher will ask you to wait outside for your ride or for an alternate phone number.
What if I need to cancel my ride?
If you need to cancel a scheduled ride for any reason, you must call 479-575-SAFE (7233) and inform the dispatcher. Passengers who are not at the designated pick up point at the scheduled time will be considered a late show. Passengers who do not arrive at the designated pick up point within five minutes of the scheduled time will be considered a no-show. Two late shows will be considered a no-show. Three no-shows in a 90 day period will be grounds for suspension from the Safe Ride program for 30 days. A second occurrence of three no-shows will result in suspension from Safe Ride for 90 days.
What are the guidelines for using Safe Ride?
We want Safe Ride to be available to help any student in need. To ensure that we operate as safely as possible, several guidelines are in place. First, individuals who create a disturbance on the bus can be denied service and may be reported to police. If the driver determines that a student is a danger to themselves or others, service may be denied and police may be contacted in order to ensure the safety of the student.
Alcoholic beverages and hazardous materials will not be allowed on the bus. Hazardous materials include but are not limited to gasoline and car batteries. The driver will determine what materials are hazardous.
What if I think I have lost something on Safe Ride?
If you think that you have lost something on Safe Ride you may call dispatch at 479-575-7233 the night that you think you have lost something and special arrangements can be made to retrieve your item(s). You may also call 479-575-7433 during regular business hours.
How do I contact Management?
Concerns, complaints or questions about Safe Ride? Click here to Contact Safe Ride Management. For more Safe Ride service information contact Jonah Windel at 479 575-5613 or email jlwindel@uark.edu .